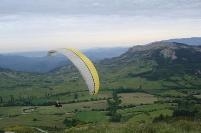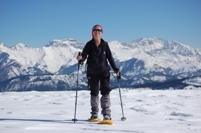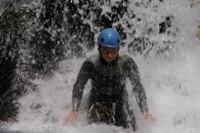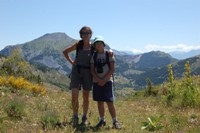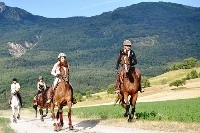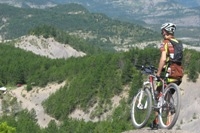 Haute Provence , a paradise for sports and outdoor activities!
There are few regions that bring together in one place so many varieties and possibilities of discovery. The Haute Provence has varied landscape. They offer the opportunity to engage in virtually all activities and outdoor sports, at all levels and in all seasons, on land, in water, in the air.
To or near Aco Roman (5km)
- Hiking: Aigue Champs and Gache mountain, the Trainon , Vanson valley
- Horse riding at St Géniez (rides, lessons, traveling)
- Paragliding and Hang-gliding at Saint Géniez)
- Mountain bike
- Cycling: pass of Fontbelle in return or loop through the valley of the Bléone
- Climbing: Gache mountain, blocks on the field Aco de Roman
Less than 15 km
- Hiking: Vanson valley, tiller Géruen, summit of Monges.
- Snowshoeing: Massif des Monges
- Canoeing on the Durance (Ventavon-Sisteron)
- Climbing on the rock of La Beaume in Sisteron
- Fishing in the Durance, Buëch or Mison lake
- Adventure in the trees at the foot of the citadel of Sisteron
- Mountain bike
- Cycling: loop mount Lure
- Canyoning at Authon
- Gliding: Airfield Sisteron (Vaumheil)
A little further
- Via ferrata: la Motte du Caire at 31km, Digne at 35km
- Hiking: Lure mountain 35km
- Snowshoeing: Lure mountain 35km, Col de Fonget 50km
- Rafting, white water swimming, snorkeling: Gorges du Verdon 90 km
- Skiing in the Valley Blanche (Chabanon, Montclar, Grand Puy) 70km
- Gliding: Airfield Chateau Arnoux (20km), La Motte du Caire (25km) and Tallard (Gap) 45 km,
We will be happy to provide all the necessary information (personal assessments, level of practice, professional recommendation, and topo maps, useful addresses, ... etc.):
info@acoderoman.fr or 04 92 61 19 21.
We can also take care of the organization of your business and prepare a program and assist you in your walks.
info@acoderoman.fr or 04 92 61 19 21.
The Tourist Office Sisteron is at your disposal to inform you: www.sisteron-tourisme.fr or 33 (0) 4 92 61 36 50
Discover our family partner Montagne Active .