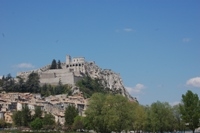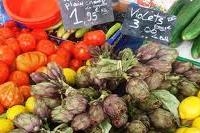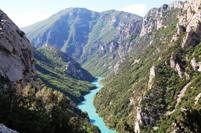 Some suggestions
Excursion to the half-day
Road of Time
This is the route from Sisteron to Digne through the mountain. These grand and varied landscapes were born from a complex geology. The Road of Time passes at Aco Roman.
Sisteron
On the Napoleon Road, Sisteron is the gateway to Provence "by a finite country, another begins." An unusual city for its beauty, its light, its streets and its dominating citadel.
Lurs
Hilltop village overlooking the valley of the Durance. This village which dates back before the ninth was completely restored. Many olive groves surrounding it. This is a typical Provençal village.
Banon and the library "Le bleuet"
The village with 100,000 books. The library "Le Bleuet" and 500 m2 of shelving located in the heart of a medieval village. People come from everywhere.
Forcalquier
Do not miss: the Provencal market Monday!
Day trip
The Gorges du Verdon, St. Croix lake and Moustier Sainte Marie
In the extreme south of Haute-Provence, the Verdon Gorge is one of the most beautiful natural sites in Europe.
St. Croix lake, at the entrance of the gorge, is the same size as Annecy lake. An "inland sea" with superb blue.
Moustier Sainte Marie, near the Gorges du Verdon and St. Croix lake, is famous for its pottery. This fifth century village is nestled at the foot of the cliffs.
The Lavender Roads and Valensole
To discover the lavender fields which bloom lasts from mid-June to mid-July, you can go that route. Lavender fields occupy the land to the horizon, interrupted occasionally by fields of truffle oaks.
Route Napoleon (Provencal part)
Napoleon took this road fron Golf Juan to Grenoble. At Sisteron, once crossing the Durance, The Emperor exclaimed: "Soldiers, we are in Paris!"
Provencal baronies
Country of mountainous landscapes with bright, Mediterranean climate yet, hilltop villages and isolated farms. Sisteron is the south gate. In the valleys, vineyards, fruit trees. In the hills oliverais. On trays, lavender fields, forests of oak, juniper, boxwood and broom.
Serre-Ponçon lake and Ubaye valley
Escapde to Haute Alpes.
Luberon
Another Provence rich heritage: ocres, the wines, the villages of characters (La Tour d'Aigues, Lourmarin, Saignon ...)
Notable museums
Museum "Terre & Temps" (Sisteron)
Museum of Sisteronais country (Sisteron)
Geological reserve of Haute Provence (near Digne)
Gassendi Museum (Digne)
Alexandra David Neel Museum (Digne)
We could give you all the information necessary for your discovery.
info@acoderoman.fr - 04 92 61 19 21.
We can also prepare a program to suit your needs and interests, and guide you during your visits.
Tourist offices are also available for more information:
www.sisteron-tourisme.fr - 04 92 61 36 50
www.hautesterresprovence.com - 04.92.68.40.39
www.saint-Etienne-les-orgues.fr - 04 92 73 02 57
www.moustiers.fr - 04 92 74 67 84