Seven acres of nooks and crannies available. Let yourself go as long as you wish: relax by the pool, reading in the shade of an oak, refreshments in the torrent, meditation on the edge of the waterfall, games (petanque, volleyball, badminton, table tennis. ..), contemplative walk through fields, woods and scrub.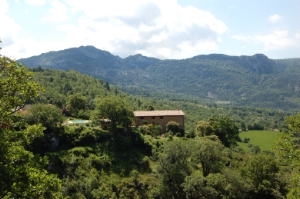 The pool (11mX5,5m)
Here, children and adults find themselves in the water, on the beach or on the wooden lawn.
The pool is open from June to end of Septembre. It is accessible only by residents of cottages.
The pool is not supervised. It is secured by an alarm. Children under 12 must be accompanied at all times by an adult.
Internet Wifi is available.
The playground
An area of 800m2 dedicated solely to fun for all. Games are available: petanque ground with available potty, badminton / volleyball court with rackets and ball, football, rugby, handball, circus hoop, ping-pong.
The stream of living water
In the valley, flows our whitewater stream. It rises about fifteen kilometers upstream in the Ma Monges 's mountain. It passes through the field in a series of waterfalls, natural pools and basins. Sometimes deers come to quench their thirst.
The old farm
Originally agriculture typically Provencal, Aco Roman has kept traces. By browsing, you will discover ancient agricultural terraces, pastures in typical slope of the mountain country, woods with the centennial oak tortured shapes and paths made ??by animals.